The functionalities of a fully-fledged industrial drone now available for all DJI Mavic 2 models
The DRONExpert Mavic 2 Thermal Gimbal has been specially developed for the Mavic 2. With the DRONExpert Gimbal, the thermal camera is continuously stabilized. With the thermal camera at the front and the storage module (Teax module optional) at the rear of the mount, the drone is also in excellent balance
The Mavic 2 is an ultramodern compact drone that can be folded for transport. The compactness in combination with the powerful thermal setup makes the DRONExpert Mavic 2 Thermal Gimbal is not only very suitable for first responders but also for many other applications where the flexibility of a compact thermal drone plays an important role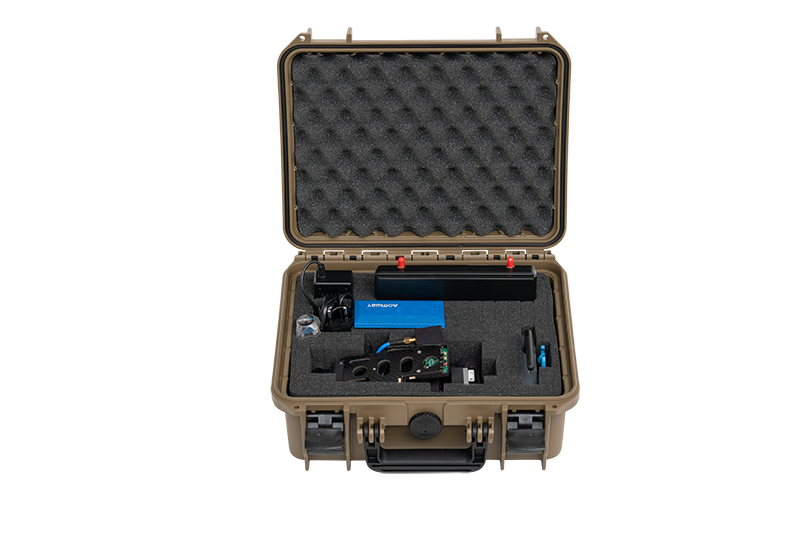 DRONExpert Automatic hotspot detection
Indispensable in many applications: the DRONExpert Automatic Hotspot Detection.
When the contrast of the temperatures is close to each other, then quickly detecting an object with thermal image is very difficult (see photo on the left). With the DRONExpert Automatic Hotspot Detection you will immediately receive a message in your display when a hotspot is detected by your thermal camera, this is possible by measuring based on the temperature value in the pixel. The threshold value of this function is adjustable as desired, so that almost any desired object can be detected.
This functionality is indispensable for Search and Rescue, but can also be used when searching for wildlife, birds and eggs or for industrial inspections and solar panel checks.
Realtime GPS hotspot information
GPS Automatic Hotspot Detection
This function is identical to the regular "Automatic Hotspot Detection", but the "GPS Automatic Hotspot Detection" also displays the real-time GPS coordinates of the measured hotspot.
For example with "Search and Rescue" you can have real-time GPS coordinates of the person.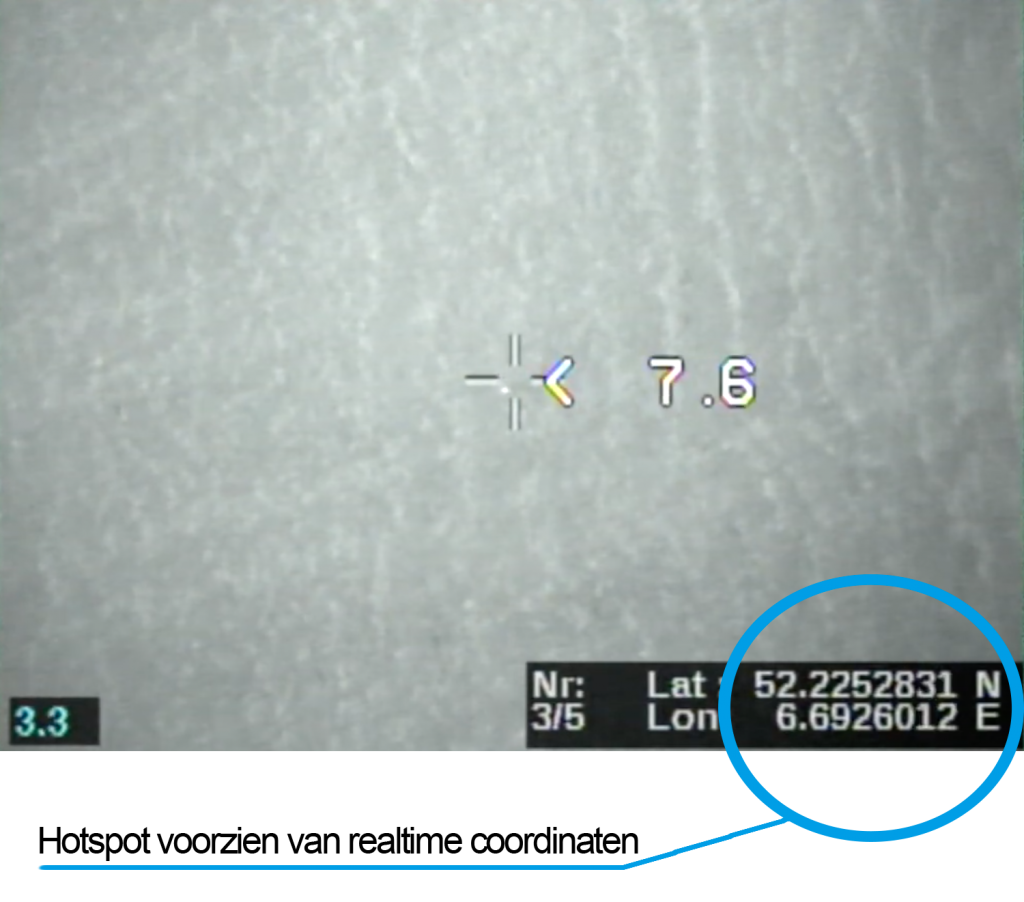 Adjustable frequency / Band / Power
In order to be able to use the mount worldwide, it is equipped with an adjustable video transmitter. This way you can adjust the following settings yourself:
Simultaneously realtime daylight and thermal view
The thermal drone setup is equipped with dual cameras (RGB/thermal). This means that you have daylight and thermal imaging at your disposal simultaneously.
The thermal image is very suitable for detection and the RGB image is perfect for recognition.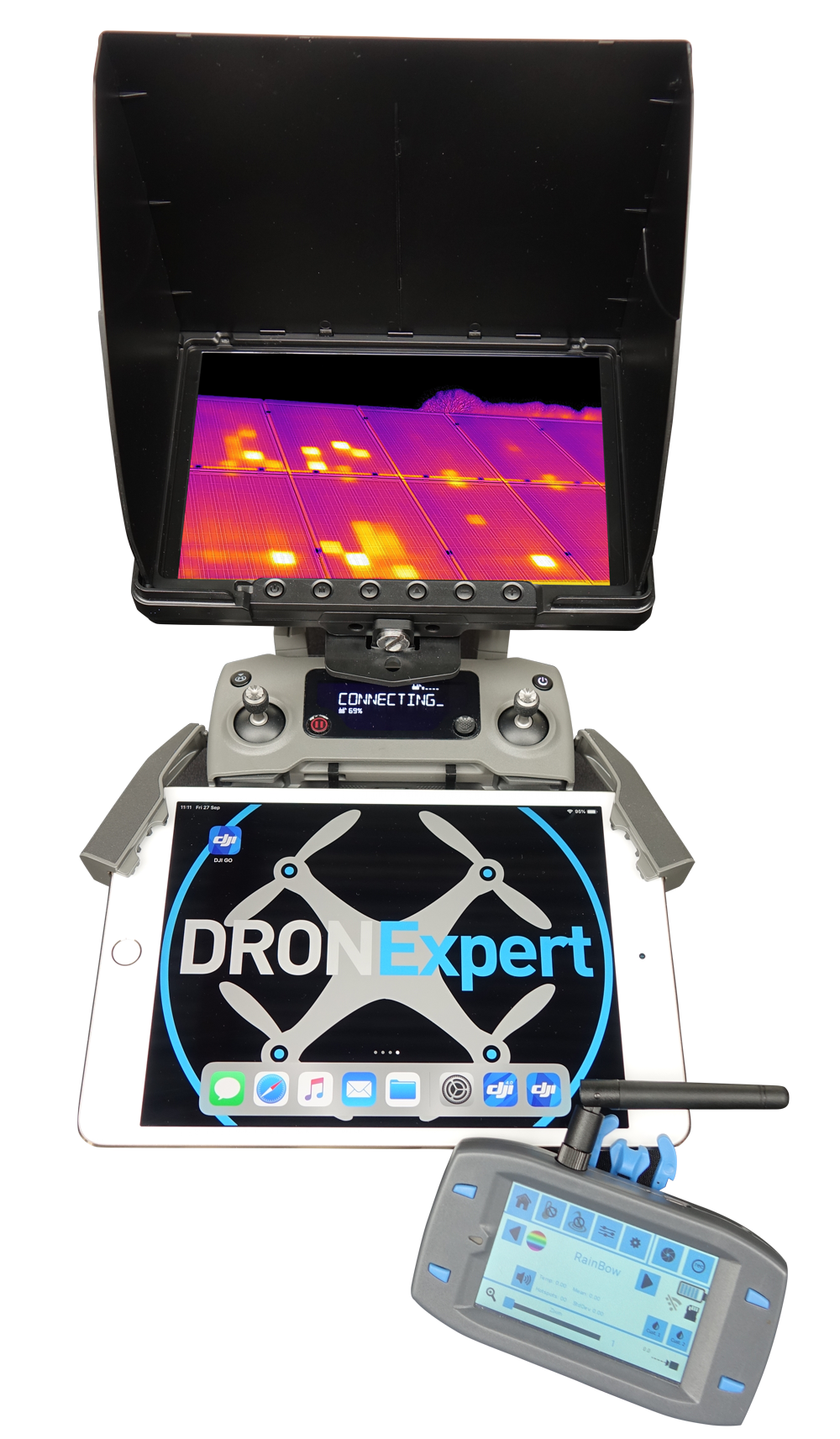 The optional tripod provides optimal comfort during your flights. The thermal LCD and DJI remote can be installed onto the tripod and can be charged through an integrated battery holder (drone battery)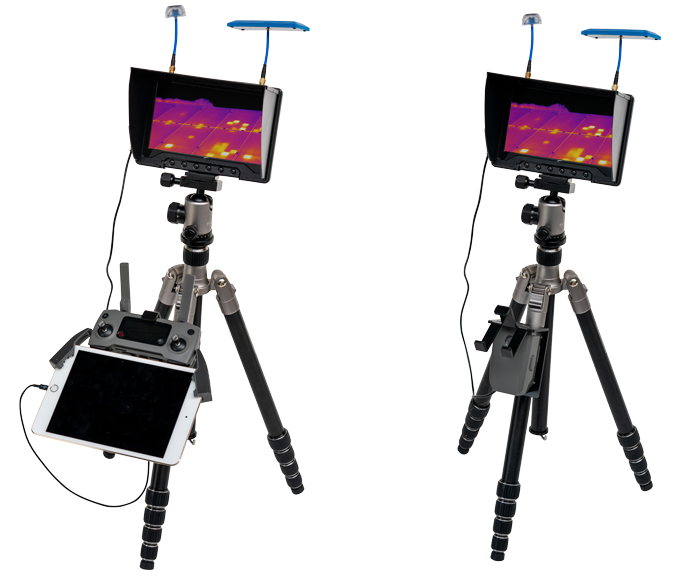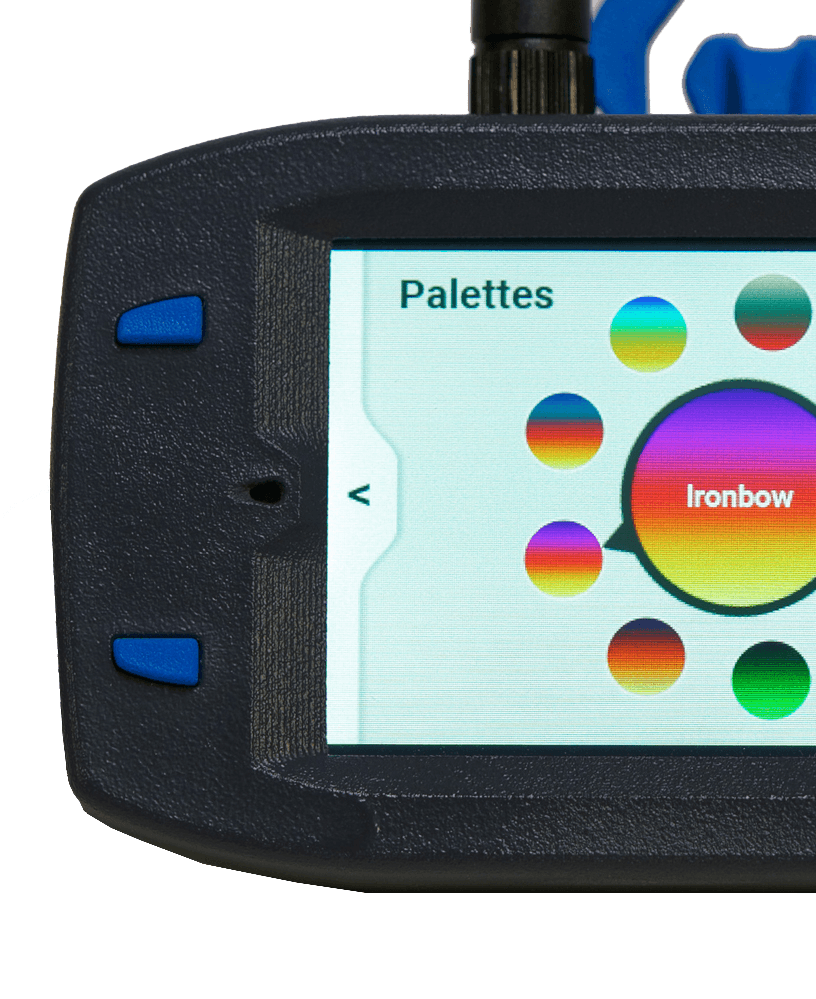 Thermal control at your fingertips
The DRONExpert Mavic 2 Thermal Gimbal is equipped with the new DRONExpert capacitive touch remote, with which you can fully control the thermal FLIR camera remotely.
The DRONExpert capacitive touch remote is indispensable for professional applications. Examples of what you can operate remotely with the remote control are:
* = Only with radiometric cameras.
Creating reports, post-processing and calibrated temperature measurement
The DRONExpert Mavic 2 Thermal Gimbal is equipped with a radiometric camera (Vue Pro R or Tau2 R). With this type of thermal camera the photos are provided with the absolute temperature value. This allows you to perform temperature analyzes afterwards and generate reports using FLIR tools.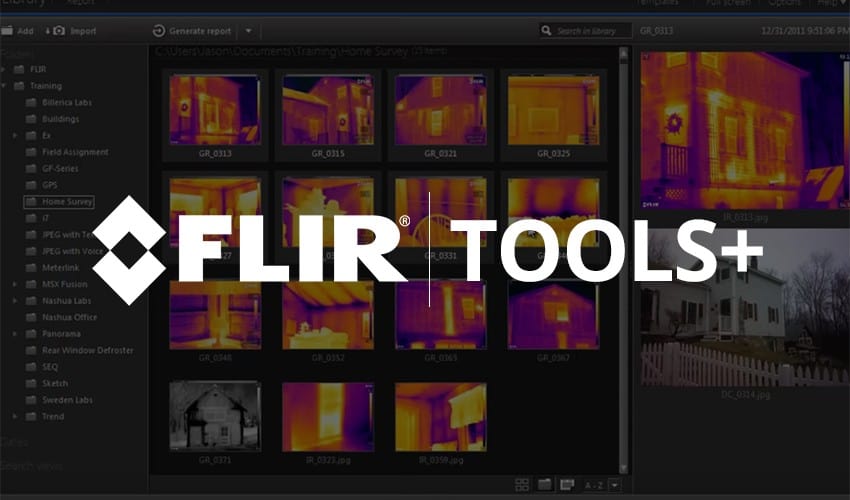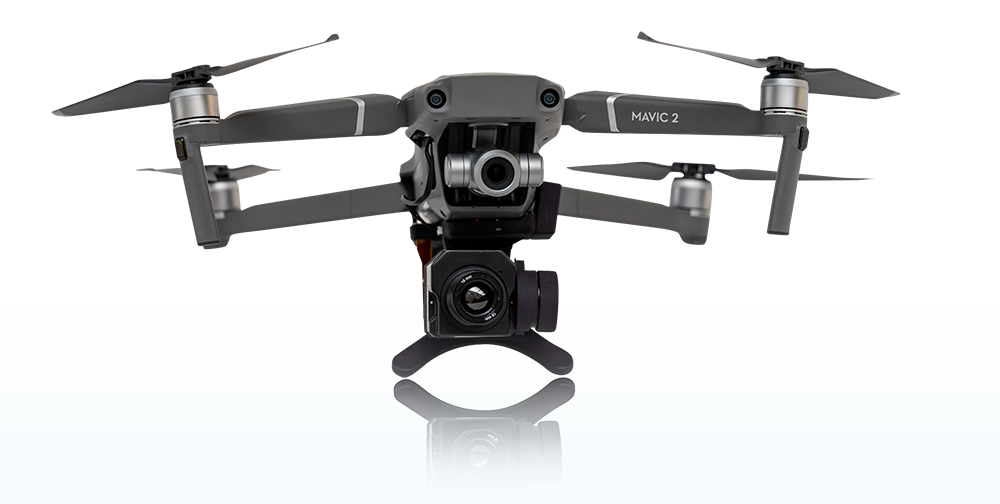 Don't need thermal on a flight?
Don't you need a thermal camera during your flight? You can remove the thermal gimbal within a few seconds.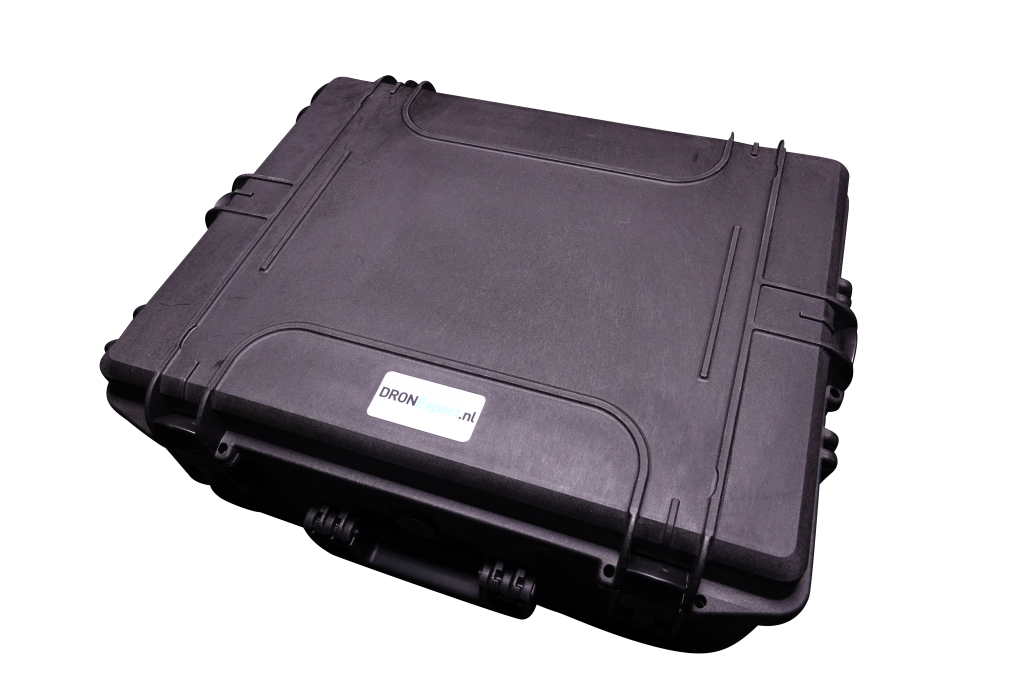 The following parts are included